How long have you been with firstPRO? 

What do you do? What's your day-to-day like? 

I am on the Sales side of our Professional Services team. My day to day consists of prospecting, building and maintaining relationships with my clients, bringing in job orders to our recruiting team, and working with both clients and recruiters to find the perfect candidate to fulfill a hiring need within the HR and Administrative space. Communication and transparency on all levels is key in my day to day.

What do you love most about the job?  

I love having the ability to think independently while simultaneously developing and growing relationships with clients and my recruiting team.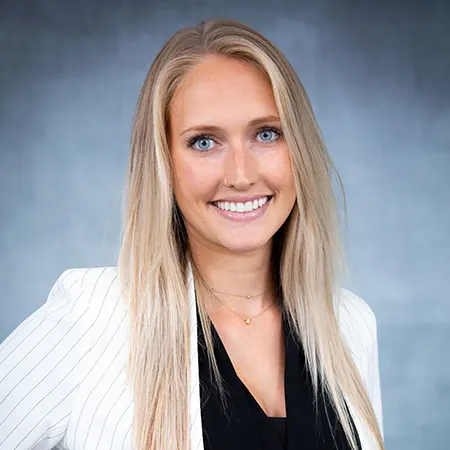 What are the biggest challenges in your job? 

Coming to firstPRO was a major career shift for me after spending 3+ years in finance. Working with so many different personalities and meeting different expectations while providing consistent service has been a learning curve, but it keeps me on my toes in the best way!

What accomplishment are you most proud of?  

I am proud that in less than a year I have developed strong ongoing relationships with some of my clients and have achieved professional goals of mine that I did not anticipate hitting until my 1-year mark, at minimum.

What's the best piece of advice you've ever gotten?   

Do the best you can until you know better. Then when you know better, do better. Always strive to be the best version of yourself and remember that your mistakes are learning opportunities – they do not define you.

What are some of the standout factors you're looking for when you match candidates with clients? 

Eagerness and openness to learn is a huge green flag in my book. Anyone can learn a new system or a new skillset when starting a new job, but having an open mind and a desire to learn is something that can't be taught. It all starts with personality!

Do you stay in touch with your previous placements?   

Absolutely! This is a crucial part of our job here at firstPRO. Relationships are everything.

What do you like to do for fun outside of work?  

I've found an amazing friend group and support system in my 4+ years living in Philadelphia. If I'm not spending time out and about with my people, you can find me at the gym or with my cat, Lola 😊

If you could travel anywhere, where would you go?  

Although I live in the city, sitting on a beach basking in the sunshine is my favorite place to be. It's always been a goal of mine to make it to Bora Bora and Maldives. I also hope to make it to Lithuania one day to explore more of my background and heritage.