TechTarget's 2020 IT Priorities Survey was conducted before the outbreak of COVID-19 became a global public health crisis. The virus led to a sudden economic downturn which forced many CIOs to revise their IT budgets. But the top spending drivers listed from survey respondents are still very relevant: digital transformation, network and infrastructure modernization, cybersecurity, and cloud computing. 
While overall IT spending may decrease, organizations everywhere have been forced to increase remote work capabilities, which has also increased the need for new networking and security technologies, increased digitalization of business processes, and cloud-based systems.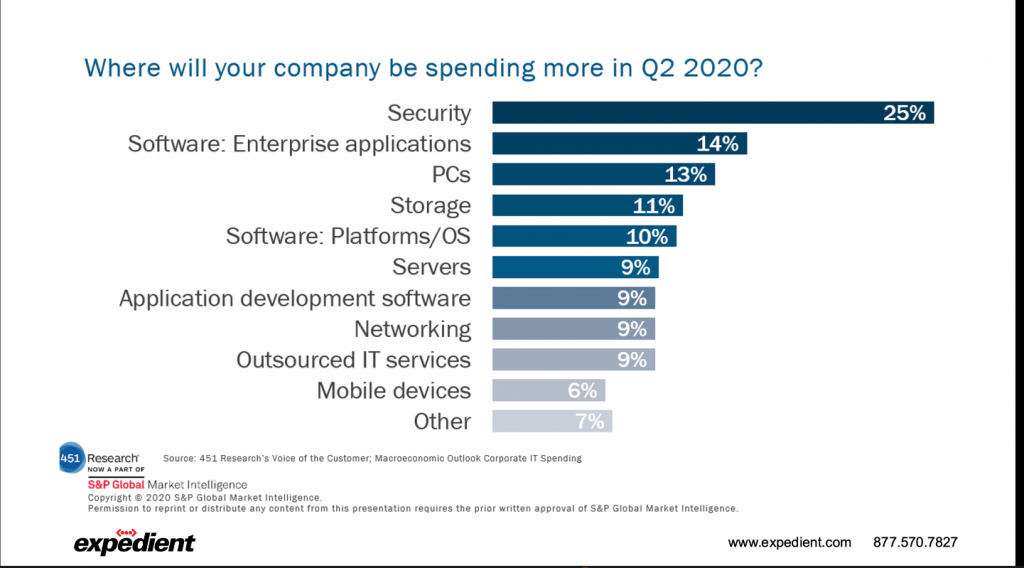 The above graph from S&P Global Market Intelligence shows where companies plan to increase spending in Q2 2020 with security, enterprise applications, PCs, and storage seeing the biggest potential increases in spending. Although Gartner has recently predicted that overall IT spending will decrease in Q2 2020, they also project 19% growth in certain sub-sectors such as public cloud-computing services.
Where is the Highest Demand?
While job titles like business intelligence analyst, senior software developer, and software developer saw fewer job postings--according to data from Dice--certain IT jobs saw an increase in demand. Such jobs include product managers, security professionals, data scientists and engineers, and analytics pros. 
Dice also reported that between February and March--when more and more companies were taking their teams remote--cybersecurity jobs saw a 20% surge in demand. Postings for job titles like cybersecurity analyst, cybersecurity consultant, cybersecurity specialist, cybersecurity manager, and cybersecurity architect all saw increases. 
The Benefits of Working with firstPRO 
If you have seen an increase in IT job openings you need to fill, you will likely be feeling overwhelmed. You have openings to fill, and you want to fill them now, but you don't want to rush through the process and hire the wrong people. firstPRO is a valuable resource when it comes to finding the ideal talent quickly and efficiently. 
Hiring the wrong employees can cost you time and money. No one needs to have those extra expenses during this stressful and uncertain time. At firstPRO, we are committed to finding the best employees for your company. We are dedicated to understanding your needs inside and out so that we can send the ideal talent your way to fill those roles as quickly as possible. Please reach out to us if we can be of any assistance to you.